Publications
Carriers and Locals Album Pages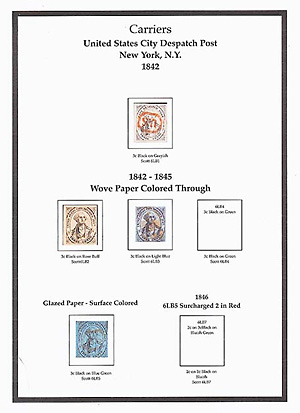 What you've been waiting for!
Color illustrations, descriptions and Scott numbers. The 257 pages are 8-1/2" x 11" in size and are available as a PDF file. Individual pages may be selected to suit your collecting interests. [DOWNLOAD PDF]
We very much appreciate the work of Alan Cohen, who was primarily responsible for the album pages, with the assistance of R.A. Siegel Auction Galleries, Inc.
Other Publications of Interest
The Chronicle
Award-winning journal of the U.S. Philatelic Classics Society is available online in a searchable format. Non-members can access all but the five most recent years. It has regular articles of interest. [VIEW SITE]