Publications
Carriers and Locals Album Pages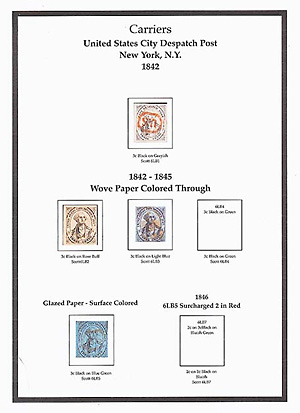 What you've been waiting for!
Color illustrations, descriptions and Scott numbers. The 257 pages are 8-1/2" x 11" in size and are available as a PDF file. Individual pages may be selected to suit your collecting interests. [DOWNLOAD PDF]
We very much appreciate the work of Alan Cohen, who was primarily responsible for the album pages, with the assistance of R.A. Siegel Auction Galleries, Inc.
Other Publications of Interest
The Chronicle
Award-winning journal of the U.S. Philatelic Classics Society is available online in a searchable format. Non-members can access all but the five most recent years. It has regular articles of interest. [VIEW SITE]
Kelleher's Stamp Collectors Quarterly
Daniel F. Kelleher Auctions publishes this magazine for stamp collectors that features regular articles on carriers, local posts, independent letter mail companies and expresses. [VIEW SITE]
CDs For Sale
Prices shown include shipping to the United States and Canada, others extra (please inquire).
Sloane Reference Collection
This CD includes scans from the George B. Sloane reference collection. It includes 38 different local posts and carriers. An invaluable reference with hundreds of images of stamps, forgeries, articles from publications, etc. (Note: Does not include any New York City material.)
Price: $50.00
---
Sloane Reference Collection of Blood's
This CD has scans of Sloane's reference collection of D.O. Blood & Co. materials. There are notes, old articles, stamps and forgeries, photographs of rare items, and much other useful information. Compliments of Byron Sandfield of Park Cities Stamps, who has made this available for study.
Price: $20.00
Boyd's Local Post, New York City 1844-1911
Gold-medal winning exhibit by Martin Richardson, 2010.
Price: $10.00
---
D.O. Blood & Co., Philadelphia: 1845-1862
Gold-medal winning exhibit by Martin Richardson, 2003.
Price: $10.00
Ordering Information
Carriers and Locals Society
c/o Larry F. Ballantyne
PO Box 6634
Katy, TX 77491-6634