The Penny Post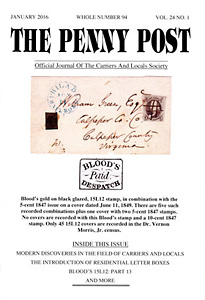 The journal of the Carriers and Locals Society, The Penny Post, is published four times per year. It is a scholarly journal for the publishing of original research and articles in the fields of U.S. carriers, locals posts, independent mails and Eastern express companies during the nineteenth century, as well as studies of fakes and forgeries in these areas.
Contributions to The Penny Post are invited! Your discoveries, ideas and studies will find a welcome place in its pages.
Casey Jo White, Editor
editor@pennypost.org
Search
Members have unlimited access to back issues of The Penny Post. Non-members will not have online access to the last five years of issues. Downloads are available on the following page: [CLICK HERE].
Login as a member to search all back issues, or use the non-member search:
Cumulative Index
You can download the hard copy Penny Post Cumulative Index for viewing, searching or printing. The current index is complete through Volume 16 and is available as a PDF file. [DOWNLOAD PDF]
Front Covers & Tables of Contents
Browse The Penny Post by viewing the front covers and tables of contents for all issues on the following page: [CLICK HERE]
Awards
The Penny Post received the Reserve Grand Award for literature at the APS StampShow held in Columbus, Ohio. In addition, the prestigious Diane D. Boehret Award, which is not given every year, was bestowed on The Penny Post with recognition of Larry Lyons as Editor.